Health Insurance
Need of Health Insurance
Again Considering with Two major risks of Life –
Living too Short: Risk of dying early is tackled with Life Insurance, but the Health problem still stays a challenge in this pace world for which Health Insurance is must
Living too Long: Similarly and needless to say, Health gradually goes down with the growing age, Health Insurance is must and always check we are covered till life time.
Every one understands the importance of Health Insurance and is taken by majority of people. Health Insurance was always consider to be most complex product due to the various factor which are to be consider while taking Health Insurance, even today complexity is still there as there are lot of things to be consider other then the type of health insurance which plays a major role which suits your need such as eligibility & exclusion, One must consider this TEN IMPORTANT points before buying Health Insurance.
Types of Health Insurance
A) Individual Health Insurance : As name suggest it covers person individual and single person is only covered under this policy
B) Family Floater Health Insurance : Family means relationship of Father, Mother, Son, Daughter, Husband, Wife, Today even Grand Parents, In laws are even consider in such one single policy. Where a common sum is shared among all, and any one or together takes benefits upto maximum in single policy year
C) Critical Health Insurance : In simple term these policy are nothing but, In this policy certain companies gives a lump sum amount on the diagnosis of certain life threatening diseases even without hospitalization.
D) Top-Up Health Insurance: This is a wonderful product to be taken, which works where people can have fixed exclusion or say beyond threshold of particular sum rest all the expenses occurs can be claimed under this policy.
(It is beneficial for people who are buying higher sum insured or people who want to buy additional insurance beyond they get them from group insurance at their work place and are available by almost 60% less than normal charges leved )
E) Sr. Citizen Health Insurance: as name suggest this policy are mentioned and designed which consider the health risk which Sr. Citizen are prone to get, however they have capping and co-pay clauses which are to be considered. The best part of this policy are they have very less premium as compared to normal health insurance provided.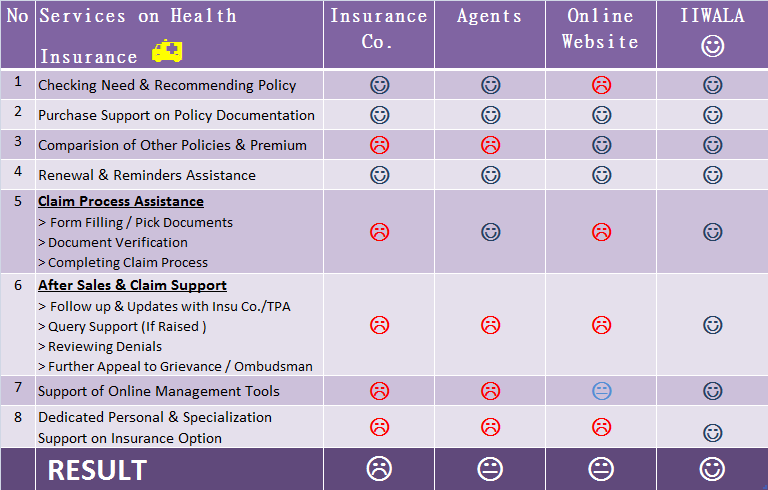 Besides this common types which you many may be aware of there are even many other types of Health Insurance available where not only the existing or say pre-existing diseases such as DIABITIES of BLOOD PRESSURE are covered but even the life threatening diseases such as AIDS and CANCER are considered which can be suggested by proper professional who provide services in this field.
Most Important HEALTH INSURANCE not a product to buy just by based on premium comparison , but buy Health Insurance should purely be based on proper calculation and after going through these minimum TOP TEN IMPORANT POINTS. And also to consider the place from where you buy the HEALTH INSURANCE, We strongly suggest to buy Health Insurance after comparisons done and from support provider of after sales.